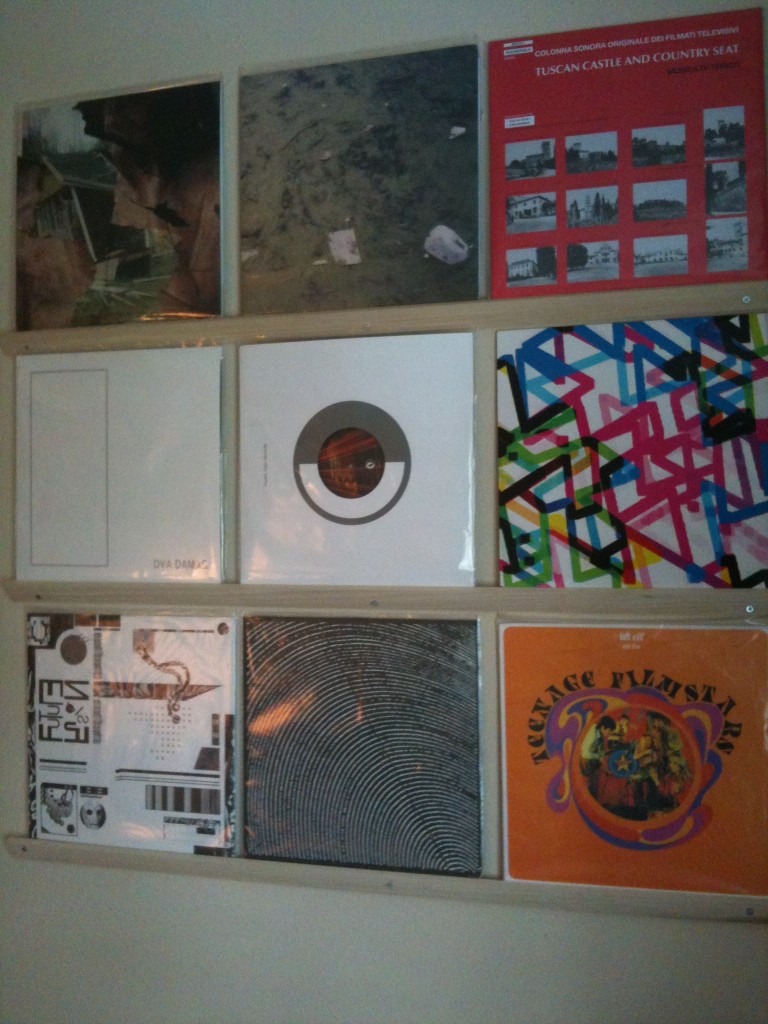 Here's a playlist of my favorite music for summer 2013. I installed baseboards backwards and upside down in order to display records as a rotating display, so this list is both sound and vision. I'm excited and weirded out at how much it makes my living place look like a record store or an art installation.
With the number nine, formatting the numerals is easy because no extra zero are needed. It's also the same name as the daily playlist from Rochester, MN's mainstream radio station. My hometown's radio played belatedly cool and horrible pop music. We always made fun of it because it's always late-blooming Top 40 songs, instead of music we actually listened to. Once in awhile my brother and I waited for a song to come on: possibly by Prince, Beck, Nirvana or another anomaly in the broadcast stream. Expect tons of anomalies like that in this playlist and any future ones.
I just got my favorite bike stolen so this playlist is sure to change with sad bastard bike riding tunes and sleazy sliced bike lock fantasies. All I feel is a dull frown, mostly frustration at having to get other transportation to work. Watch this space for downtrodden soundtracks to hear while you wish you were riding your bike. Until, this is David G-P presenting tonight's Top Nine at 9.
1. JAMES RUSHFORD & JOE TALIA manhunter
2. KEVIN DRUMM imperial distortion
3. TEISCO tuscan castle & country seat
4. DVA DAMAS nightshade
5. ROBERT HOOD black technician ur mad mike remix
6. FACTORY FLOOR fall back
7. STREETWALKER future fusion
8. METASPLICE infratracts
9. TEENAGE FILMSTARS star
1. JAMES RUSHFORD & JOE TALIA manhunter (kye)
A soundtrack or such work inspired by the Michael Mann 1980s moody, mystery, and mangled Miami Vice-like movie. Focused and falling apart feeling, like all characters finally collapsed under the immense pressure they endured during the movie. Possibly the actors and filmmakers eventually relax and breathe a huge sigh of building-crushing relief, creating this recording. Ambient for people who don't really like chilling out. Or chilling out music for people that like driving away garbage bin sounds. This sounds like field recordings of somebody jamming electronically with their friend whilst watching the movie. Unsettling in its calmness.
2. KEVIN DRUMM imperial distortion (hospital productions)
Seminal extended drone sounds. Remastered, repressed on three records instead of two, and perfect for green dreams. Feels like sinking way beneath every stressful surface then flattening out to watch things from a distance. I wish my records were the limited green vinyl. Black is still good, and probably sounds better. I'm surprised at how much other people like this and don't think it's just a long tone, probably because it's nothing close to one tone and swells something beautiful and dynamic. Lussuria was on an earlier version of this list, but Kevin Drumm needs to be shared more often. Real relaxation.
3. TEISCO tuscan castle & country seat (roundtable)
Bizarre library record reissue. I keep listening to this and saying to people straight up, "This is a weird record". Psychedelic and sauerkraut rocky. Wandering piano scenes. Adventurous and energetic. I cannot see the connection between the Tuscan countryside and this music. Maybe if Ray Bradbury needed pastoral music for a scary story. Throbbing pastoral science fiction themes.
4. DVA DAMAS nightshade (downwards)
Direct echo vocals, Ennio Morricone western-riff guitars that surf, and tight drum machines. Incoming austerity and minimalism, if those qualities can be found emanating from an electronic surf band. Much more potent than I can possibly explain. This music takes up entire landscapes with exact production and seemingly nothing special captured at all. A swoop of blackness. It's over before you know what happened.
5. ROBERT HOOD black technician ur mad mike remix (music man)
Detroit Techno, made by a man who's lived in rural Alabama for seven years, remixed by Mad Mike from the Underground Resistance. Mad Mike makes a moody synth introduction followed by straight ahead four to the floor-tronica. The original is futuristic jazz music, ending with a stunner of chords, pillow fighting each other to fall down land. This record does not work if played quiet, you need to turn it way up. Mixes well with some of the new L.I.E.S. records, or transitions between genres. An Omp-Omp-Omp-Omp steady lift-off.
6. FACTORY FLOOR fall back (dfa records)
Can't wait for Factory Floor's new album. Disco plus industrial plus major dance-in-this-place attitude. This record mixes well with almost anything. The hi-hats alone are enough to hype people up. Insane synth repetition. Bonus points for the b-side separating the parts of the song into beats, synths, and vocals. Nothing like a sexy, frantic, industrial vocal to throw into any mix. The world is a better place when there's an rhythmic acapella at the ready. Steady the pattern down.
7. STREETWALKER future fusion (cititrax)
Speaking of mixing Rob Hood with L.I.E.S. records, this record is made by the distractingly named Streetwalker, which has one Beau Wanzer who records dance music as Mutant Beat Dance on L.I.E.S. The other guy in the band plays in White Car, making other dance music. This project is dissonant Chicago house licks and hand claps, mixed with estranged and tense vocals. Probably the most futuristic sounding album on this list. Also a totally different approach to all the recent Chicago house research methods going on in dance music. This is not chords and beats, this is snaps and wattage bumping ghetto house into a sneering punk rock monotone. Might be too pretentious for people who like either of their vintage cold wave or chicago house, yet strikes a pleasing combination of voltage for me. Lick the batteries.
8. METASPLICE infratracts (morphine records)
Hefty miniaturized industrial sounds. Electronic music that never sounds like glitched up computer filters, instead it sounds like malfunctions at the emergency room. Imagine if you zoomed into a emergency room and caught all the tense stress and fractured anxieties from everybody there. Metasplice sounds like building up those sounds into a layer of rich, pummelling, anxiety. Prismatic Sway is my favorite track with its wafting melody that sounds like a bent piece of metal warped back and forth. This record reminds me of old Drop Bass Network and Six Sixty Six records – distortion pedals applied to drum machines, freaked out acid lines, and 909 kick drums. Except Metasplice's work sounds even clearer or cleaner, like all the bits are detailed enough to become new screws or revitalized turnbuckles or other tools precisely heard, felt, and working hard.
9. TEENAGE FILMSTARS star (creation records)
Side project of My Bloody Valentine. So MBV has a new album out? Ok, um, wait. Listen to this first. A collage of swirling guitars and romantic ooohs will cascade over you. This sounds like my kind of slightly wierd indie rock like your first lovely kiss in a driveway. That first kiss ruined or improved into a music video, channeled back using prismatic colors for your nostalgic enjoyment. Repeat. Breakbeats! Musique concrete! And circular song structures.