Summer Mega Mixes
What's playing on the kitchen boombox, headphones, and back of the house work rooms. Sweat to these summer mixes of various genres and selections.
Aug 04, 2014 - soundcloud.com -

54
Eric Duncan DOES make the best edits. He goes into full-on rock mode on this recent Know Wave radio show, with all the subtle effects and repeated riffs that make the familiar sound crazily good and new. Contains a snazzy mix of Prince and a loop of the guitar from The Who's Eminence Front. I learned about the later from a Miami Vice episode with a night boat chase, 1980s slick soundtrack style.
Aug 04, 2014 - soundcloud.com -

56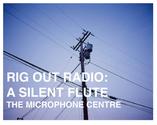 Leave it to A Silent Flute to bring together the ultimate sweaty, sunshine-y, hilarious mix. He describes it as "80s/90s Dancehall Winners". I say the mix is all ridiculous jams, booming and grin producing. This might not be everybody's preferred mode of relaxing, however I just want to smile away into a dreamland of sweet digital rhythms and reggae pillows.
Aug 04, 2014 - ausmuteants.bandcamp.com -

54

Not exactly a mix, however it was originally released on cassette and sounds like a continuous fried mind music session. One of my buddies turned me onto Ausmuteants, saying we have to go see them on their first U.S. tour coming up in the Fall. Punk, synth, and desparation vocals wrassle with some drum beats that sometime sound like drum machines, and other times slammingly sloppy breakbeats. Summer paranoia calm downs.
Aug 04, 2014 - mixcloud.com -

46
Powell's mix show is a must-listen. Refreshing microphone banter and heavy electronic music. This mix features Vereker who makes unpredictable house or techno or futuristic giallo thump on the floor music. Emphasis on kick drums and head banging propulsion. Noise on the dance floor.
Aug 04, 2014 - soundcloud.com -

50
Seems like the Freerotation event was the party/place to be this summer. This set by Surgeon is ambient and incredible selections. Lots of Coil and Coil-related projects included. I keep telling my family I have "A sense of dread" because this was playing the kitchen during our daily oatmeal eating. Later this mix got played at night. Step off the deep end, or close your eyes off the deep end.